BOKU NO HERO ACADEMIA FANON WIKI PAGE
WELCOME
Welcome to Boku no Hero Academia Fanon Wiki, a Wiki dedicated to the Manga and Anime Franchise of Boku no Hero Academia created by Kōhei Horikoshi and published by Shueisha. This Wiki aims to collect and showcase Boku no Hero Academia Fanon information and all related media. Please don't hesitate to make or edit any articles you wish! Click Here, to follow our mother site.
We currently have 856 edits to 62 articles and 116 images on this wiki.
THE STORY SO FAR...
Izuku Midoriya was just a regular middle school student in a world where people with superpowers known as "Quirks" (個性 Kosei) are the norm. However, he dreams of one day becoming a Hero (ヒーロー Hīrō), despite being bullied by his classmates for not having a Quirk. After being the only one to try and save his childhood friend, Katsuki, from a Villain (敵(ヴィラン) Viran), All Might, the world's greatest Hero, bestows upon him his own quirk, "One For All". The story follows Izuku's entrance into Yūei High School (雄英高校 Yūei Kōkō), a school that cultivates the next generation of Heroes.
QUOTES OF TIME
"
There aren't many things you can believe. That's how human beings work. They only care about themselves, and no one else really matters. They get caught up in their own lackadaisical dialogue, lying their way through life.
"

—Death Billards
OFFICIAL POLLBOOTH
I'm looking forward to...
FEATURED PICTURE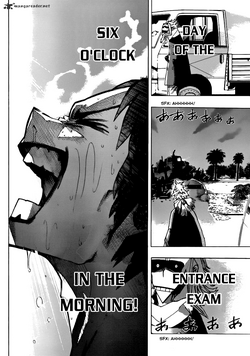 Exams Are Officially Opened!
Released April 18th, 2015
OFFICIAL WIKI NEWS
Admin nomination is officially opened. Interested applicants are all requested to talk to the overall Admin for proper registration.
Ad blocker interference detected!
Wikia is a free-to-use site that makes money from advertising. We have a modified experience for viewers using ad blockers

Wikia is not accessible if you've made further modifications. Remove the custom ad blocker rule(s) and the page will load as expected.